About Sandee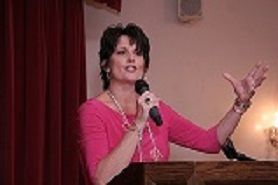 In her powerful testimony, Sandee Lester openly shares her painful experience of dealing with troubles in her marriage that were magnified by the sudden death of her father. After his death, she found herself facing issues from the divorce of her parents she never dealt with. Her anger towards her father transferred to her husband, Rick, who at that point, focused his time and energy on his Air Force career. Sandee felt abandoned by her father and abandoned by her husband and turned to another man for support. When her husband got an assignment to go to Germany, she contemplated divorce.

God miraculously intervened at a time where Rick and Sandee could see no hope, and He saved their marriage. They began reaching out to other couples to share the power of God in marriage. For over 25 years they counseled couples, taught classes, spoke at churches, and held marriage seminars with their Resurrection Power Marriage Ministry.


Rick Lester passed away in July of 2019. Sandee now runs the ministry as Resurrection Power of the Mind. Along with marriage, she has expanded this ministry to include how our thinking affects the struggles we face in our lives. For more information and to read her weekly blog, go to: www.RPM-ministry.com.

In her years of moving all over the world with the Air Force, Sandee worked at numerous churches as the music director, worship leader, pianist, and assistant pastor in Australia. She performed professionally as a singer and pianist for over 30 years.

Sandee is the author of When Superheroes Fall, GPS to a Joyful Marriage, and GPS to a Joyful Marriage Bible Study for Couples, a study that goes with it. Her latest book, Resurrection Power for Marriage; Daily Supplement for a Healthy Marriage is now available in ebook format.

Sandee combines her desire to help women along with her musical talents to present her message of hope. She is available to speak at events or to hold workshops.

For more information, please contact Sandee at:
lesters@rpm-ministry.com


GPS to a Joyful Marriage Topics:
"Maintenance"
- Communication: The key to a happy marriage.
"Fill the Gas Tank"
- Love and Respect: What is love and respect to you?
What is it according to the Bible?
"Rev your Engines!"
- Honest talk about sex and intimacy.
*Sandee's most popular topic - includes a question and answer time for women to anonymously ask personal questions.
"Follow the Laws"
- Priorities: Are yours in order?
"Fixing a Crash"
- Can your marriage survive an affair?
These are a few of the topics Sandee offers. She can also plan her program according to your needs and ideas. A performance including your favorite gospel numbers and/or her original music is available upon request. Sandee asks no fee but would appreciate a love offering.